0
0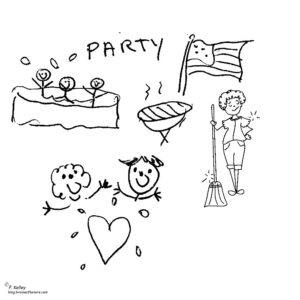 About a year into wedded bliss we invite MIL & Co over for 4th July weekend.
We are in 7th heaven.
Kids, teenagers playing in the backyard pool,
Grown ups inside, cooking visiting, catching up on gossip.
Time to Eat!
Kids come in and swarm the dining room… wearing damp bathing suits sitting on dining room chairs.
MIL objects, so we chase kids outside to dry off.
Set towels on slightly damp chairs.
No harm, no foul…
Party continues…
Hours later kids complain MIL is pestering them non stop about the wet bathing suits.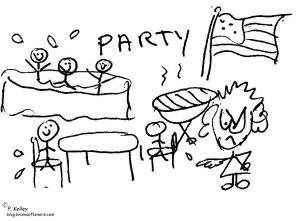 We advised kids to apologize, maybe go out to the movies.
Kids leave en mass
Grownups continue visiting.
A great time was had by all, well into the evening hours
played games,
caught up,
gossip…
Went to bed.
Life is good.
Next: Unexpected Turn
The Theory of Pat is a gradual process which will expand as we work out the mysteries of our past, present and future. We chose to share as we learn and practice how to navigate our own impulsive and irrational thoughts so we may help others better defend against those who work to exploit weakness.