Read Time:
9 Minute, 36 Second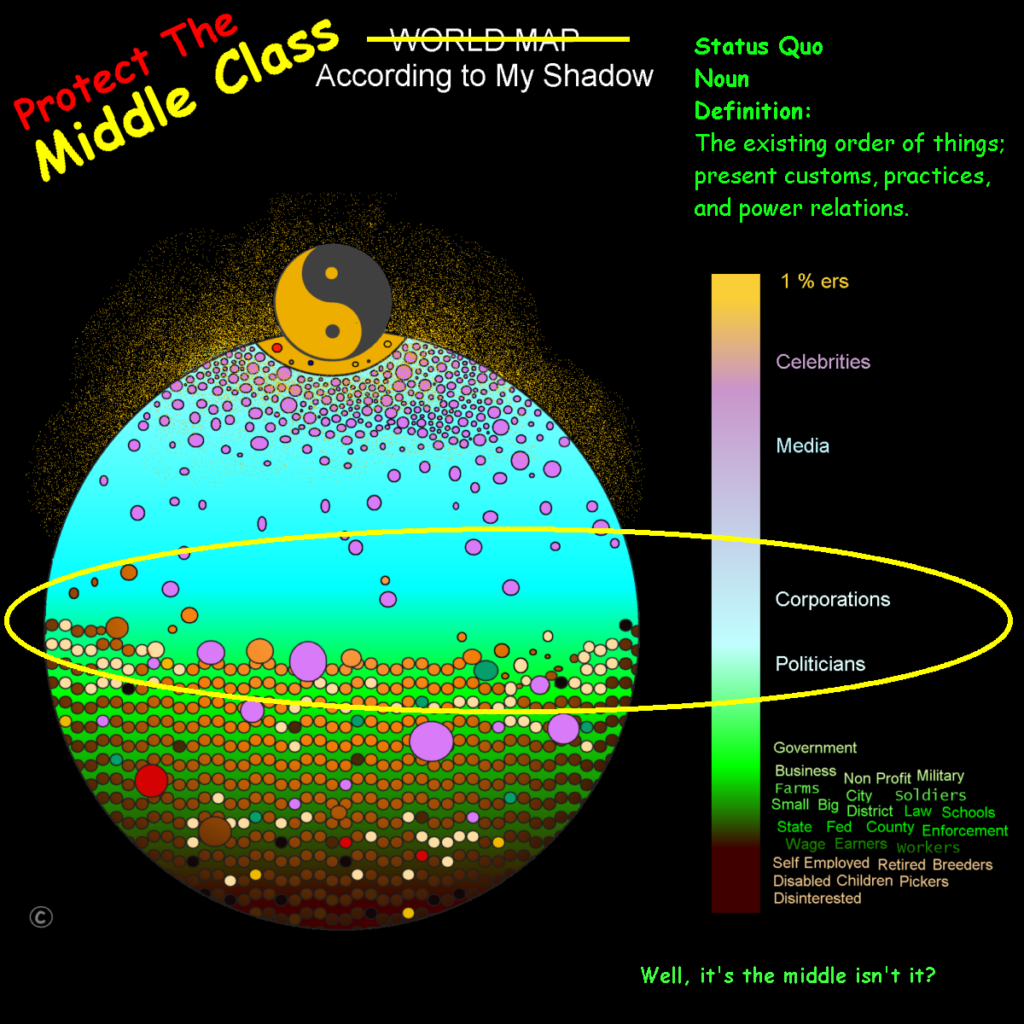 It has been several years since we presumed to write this opinion article and wondered the logic and reason of it all.
While the plite of women seems a noble enough cause to ponder, we now ask where did this all go so wrong to the point males now claim to be female to the ludicrous point of claiming the feminine ability of menstruation and child birth?
Did the powers what be simply throw in the towel? Have such scandals and exposures as Epstein Island scandal, Panama Papers, political hijinks, pay to play scandals contributed to visions of  WWIII retaliation to wipe the slates clean?
Have the bastard progeny of kings proven far too arrogant to be allowed to continue with silly notions of individual freedom and rights to ownership of land?
Only the Future May Tell
We studied the plight of people in countries across the globe in Shitheads and Shinola to determine demographic criteria of Best and Worst.
This interest began with wondering how a country, city or state qualifies for the "Best or Worst places to (live, vacation, work, succeed)" categories.
First phase of the research concluded the "best" places to live overall seem overwhelming with a majority of Caucasian ethnicity.
Not surprisingly, the "worst" places overall seem underwhelming with Caucasian ethnicity.
Which led to another question…and then another, and another:
Who is the intended audience for Best or Worst?
Who writes this stuff?
What audience cares most about overwhelming or underwhelming populations of Caucazoid ethnicity?
What criteria other than race/ethnicity could be at play?

Wealth
Health
Oil and Natural Resources
Government
Faith
Happiness
Resistance
Politics
Globalization
Labor
Development (aka colonization)
…
Suspicions confirmed..but is the schism over ethnicity/race alone? Could it be more?
While Visions of Classism Danced in our Heads
Thought it might be interesting to make a new visual map to display gender conditions by country, but with only two simple criteria.
Does the Country Have Laws that Mandate:
Non-discrimination for hiring women – Yes or No
Equal pay between males and females – Yes or No
Sounds simple enough. Straight forward, cuts through the minutiae that conceals, obfuscates and confuses upon interpretation.
Does your country mandate these laws?
One might assume a country with both laws mandated has the strongest gender equality protection.
Pick and Choose.
Some countries mandate both gender equality and equal pay laws. Some countries mandate only one or the other.
Here's where things get subjective. How to rank countries that provide only one protection but not the other.
Which mandate provides the strongest gender equality protection?
Non-discrimination for hiring women?
Equal pay between genders?
Non-discrimination gender laws encompass a range of human right's Discrimination laws.
Age
Caste
Disability
Employment
Language
Name
Nationality
Race or ethnicity
Region
Religious beliefs
Sex, sex characteristics, gender, and gender identity
Sexual orientation
Drug use
Othering
Reverse discrimination
Redlining
Equal pay pairs with development of job training and negotiation skills.
Scoring System:
Both laws mandating non-discrimination and equal pay
One law mandating one or the other but not both
No laws no protections
Best or Worst Protections – Mandated Gender Discrimination & Equal Pay Laws
Here come the binary bits necessary to determine the color codes for the countries on the world map.
Strong
Tepid
Weenie
Stubborn
Barbaric
Dark Green
Light Green
Yellow
Orange
Red
Y, Y

1, 1

Y, N

1, 0

N, Y

0, 1

N, N

0, 0

?, ?

0
? = Countries which generate a lot of complaints, provide no data, are clueless, didn't understand the question, barbaric, undergoing civil strife and have otherwise unknown Human Rights History.
Questions:
Does one mandate hold more or less importance over the other?
Why do some countries opt for "Yes" to one mandate but "No" to another.
Does it make a difference which law is mandated in a particular order.
Does adopting one law and not the other make an effective difference, bring benefit or hardship to a country's economy.
What is the criteria for determining a rank to label a country as better or worst for women when?

A country discriminates in hiring women but guarantee equal pay for women?
A country mandate non-discrimination laws for hiring but not equal pay between genders
The result of looking at each country through the narrow focus of "Mandated Law" concerning gender equality produces a world map different from the usual Global Gender Gap (GGG) reports.
Click on map for large version: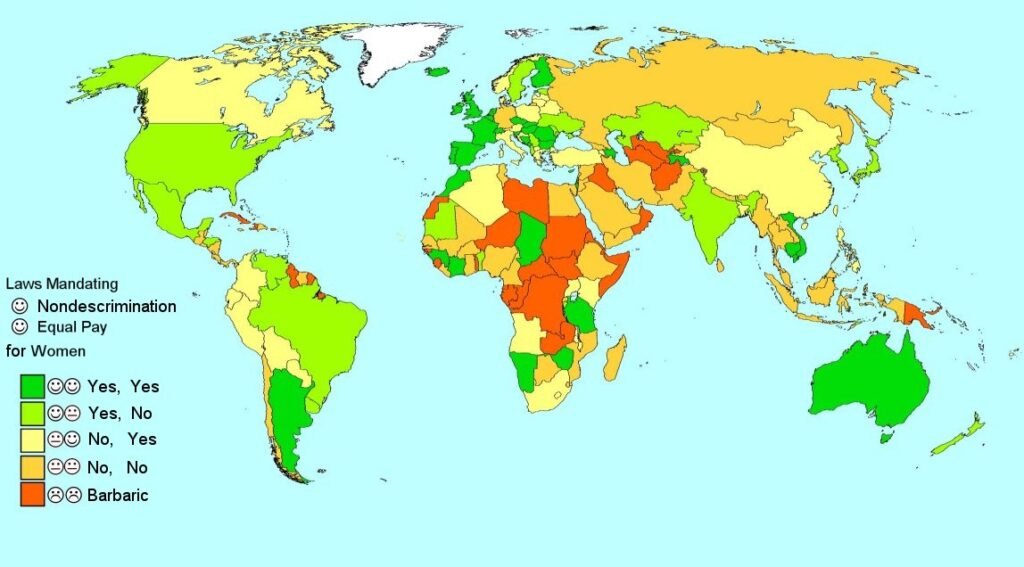 Blue gender map (above) original here: Travel advisors recommend countries and destinations for travel with such designations as:
Gender equity is largely determined by workforce participation of women and men. Per Investopedia, the official definition of workforce participation is:
"The participation rate is a measure of the active portion of an economy's labor force. It refers to the number of people who are either employed or are actively looking for work."
Global Gender Gap World Map
How this map compares with Best and Worst countries is among the next landslide of questions as yet to unfold.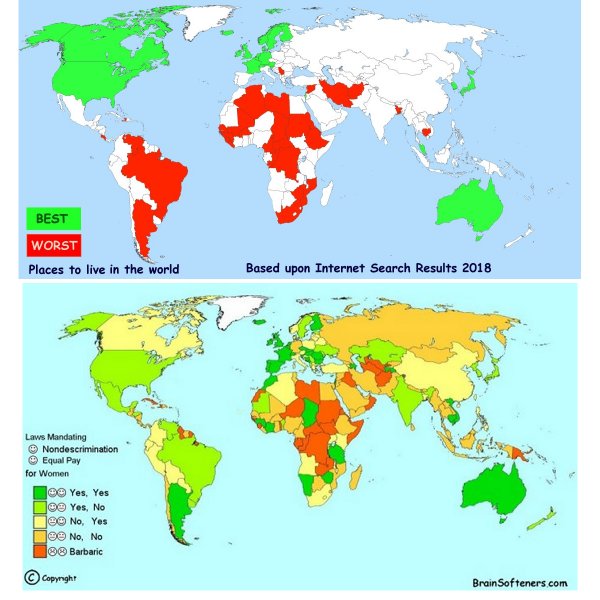 Should Mothers Stay at Home to Raise their Children?
https://www.worldatlas.com/articles/the-misery-index-reveals-the-worst-countries-to-live-in.html
http://www.businessinsider.com/the-worst-places-to-live-in-the-world-2017-8
http://247wallst.com/special-report/2015/12/21/25-worst-countries-to-live-in-the-world/
http://247wallst.com/special-report/2015/12/21/most-livable-countries/2/